models for participation (pt 1)
why are so many young adults eager to watch a children's show?
What is active participation? How can one have a relationship with the media one consumes?
It's easy enough to sketch out two initial models: one can experience media actively or passively. Active experience might look like what I described in my last post. The spectator engages with the genre by participating in it in some way, and this informs his experience when he takes on the role of 'audience member'. So, for example, the musical theater fan plays in an amateur production of a play that he later goes to see on Broadway. This forms one node in a continuum of generic engagement that could last for the entirety of the musical theater fan's life: he occupies the performer/spectator roles in turn.
In contrast, one can engage passively with media. Images of consumption tend to fit this mode of engagement quite well. 'Bingeing' falls into this mode. Like food, a given tv show can go down easy, or it can be a tough to swallow. Passive engagement, even moreso than eating, is often construed as an unidirectional relationship. The spectator sits in front of the screen and accepts the content which comes to him. Unlike food, he does not transform what he sees into useful energy. Instead, it soothes and immobilizes him. In relation to media, he will never occupy the performer role. He is the eternal, undiscerning spectator.
We can see these two models as opposite ends on a spectrum. Like most extremes, they are not particularly well populated. There are lots of different relationships that one can form with media. Most are a lot more active than the passive engagement mode that I have just outlined, while being less involved than the performance-based life of the musical theater fan.
A lot of sensationalists will claim that the passive consumption model is the dominant contemporary way to encounter media. I don't agree with this in the slightest, and I would say that one of the goals of this particular tangent is to show that most viewership is more active than people give it credit for. Although the act of watching something is technically an act of consumption, it is not a one way relationship. As the consumption of food provides output in the form of energy, the consumption of media provides its own output. This output is typically material for narrativizing. Put another way, the fan absorbs material from a show or movie, and then incorporates this material into a point of view with which he can make sense of his reality. The musical theater fan is a very obvious example of this because he is part of a visible and performative collective, but quieter versions of this sort of thing occur all the time on an individual level, or on the level of a small, non-performative community. There is some component of consumption which is essentially lens-making. The passive consumer is the exception, not the rule.
In this essay, I'm going to outline a few media relationships. My purpose here is to highlight how important these relationships can become in the construance of one's own self: self vs. others, self as a moral agent, self as an adult vs. self as a child, self vis-a-vis the raw sensory data of the material world.
Steven Universe Fans: Shaping America's Youth

For this example, I went through an old tumblr of mine to find some text posts that I had made about the children's tv show Steven Universe. My friends and I regularly watched this show in our final years of high school. I found a surprisingly large amount of rather impassioned text posts, including the following:

Looking at it five years later, I felt utterly baffled and more than a little bit embarrassed. How could I have written this? Was I really that concerned about the children who were watching Steven Universe? I didn't know any children who watched the show. In fact, the only regular viewers I knew of were myself, a few friends who were, like me, seventeen years old, and a large, mostly young adult 'fandom' on tumblr.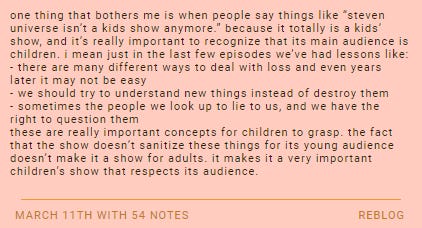 We were not passive consumers of the show, it would seem, and we concieved of our relationship to it in a very specific way. We took pleasure less in the show's storylines, and more in the percieved virtue of those storylines. The fact that the target of this virtue was not us, but instead a viewership made up of childen, only made the show more appealing. Our logic meant that we could feel virtuous ourselves for watching Steven Universe, because the more viewers the show had, the likelier it was that it was going to stay on the air and continue to project its message to the little ones.
Of course this also had messier, more shadowy side effects. Our logic necessitated that we assumed that the show functioned like a guidebook for healthy relationships. As seventeen year olds, we were all trying to figure out how to navigate relationships ourselves, and we established a kind of therapeutic back and forth with the show. Certain characters and scenarios mapped onto situations in our lives, and the show's percieved moral authority allowed us to use these characters as tools to make sense of our own quagmires. This also, if I recall correctly, resulted in a strong backlash toward the show once it started including plotlines that didn't fit within our model of a virtuous Steven Universe. I definitely recall people angrily petitioning the creator on social media after certain controversial episodes, under the guise of doing what was right for the children. In reality, I believe that the reason for this intense watchdog behavior was that the show functioned for many of its older viewers as a moral text, not in the sense that it dictated what viewers should do, but in the sense that it served as a clarifying conduit between a viewer and their murky notions of what was right and good.
These two functions mingled to make Steven Universe a refractory lens for a large amount of young people on the cusp of adulthood. Focusing on the (essentially rhetorical) target of the grade-school audience allowed these young adults to orient themselves as virtuous, responsible figures. However, in the process of allowing the show to gain such moral cachet, older viewers turned it into a guiding light for themselves. Steven Universe provided us with a very appealing point of view. We cared about children, which allowed us to differentiate ourselves from those children and position ourselves, for the first time, as virtuous adults. And of course we were virtuous in our relationships with each other — our relationships which we policed through the language and imagery of Steven Universe. Although the piece of media we chose to do this with was almost unspeakably lame, it makes sense to me that we would fall back on an outside text while trying to figure out what being adults meant to us.
This is just one example of how consumption shapes a view of the world. I'm going to do a few more of these sketches in the coming weeks. If anyone wants to recommend me an interesting piece of visual media or subculture based around visual media that they would like me to write about, please do not hesitate. Next I think I'll write about prestige horror…
By the way, a small aside. I am very interested in looking at this contemporary 'consumer' role, in general, as an active mode that people inhabit to great effect, and with the purpose of orienting themselves in the world. This isn't to say that 'consumer culture' or whatever you want to call it is a good thing, but in general I think it's good to ask questions about how people are active participants in a certain phenomenon instead of just throwing up our hands and despairing about how the person who orders a lot of takeout or buys a lot of makeup or binges TV is fundamentally passive. Again, the goal is not to endorse anything, but to locate agency where it exists and to map out different kinds of narrative-making, like the one I laid out above.